The job of a concierge or security guard is not an easy one. Depending on the building size, demographics, and management, the duties of a condo concierge may vary greatly. Ranging from security monitoring, greeting residents and vetting guests to receiving packages for residents and much more, he is probably bound to slip at some point – he's only human!
The advent of technology is surging through all aspects of life, and it is revolutionizing the parcel delivery sector. Parcel management has become an ad-hoc exercise in condos; it is more of a reaction to the volume of parcels than a planned system. We sometimes experience that moment when the resident is unhappy with how their package has been handled; or you could have a situation where there is no privacy – where almost everyone in the building knows what came in the mail for you.
Today, there are smart, simple and secure package delivery solutions for condos that can help solve this. They reduce operational costs and improve service levels to residents, while recording every parcel drop-off and pick-up for complete accountability. Typically, they are designed for seamless integration with building systems and help reduce human-to-human interaction using touch-free locker access with a smartphone mobile app or emailed QR code.
A few other advantages are as follows:
Allows for 24/7 delivery and pickup
Increased security with controlled access to items with an audit trail of items deposited and retrieved
Remote access to the status of items, release of items, and alerts
Outer surface can be customized to work with any decor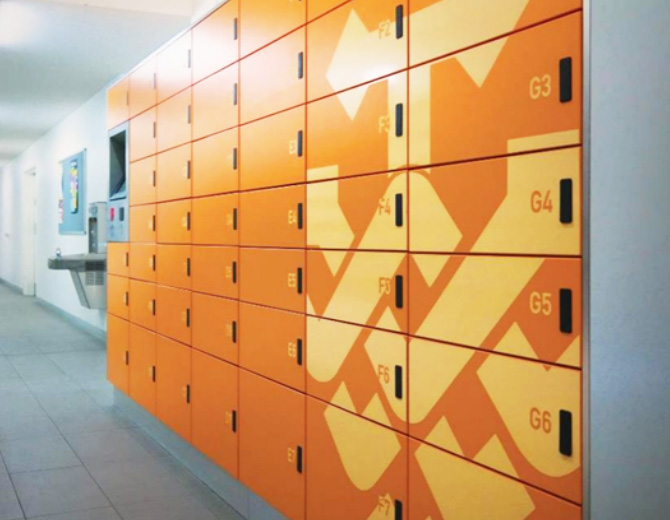 | | Who | Action |
| --- | --- | --- |
| Step1 | | The delivery agent drops off the parcels at the concierge desk. |
| Step2 | | The concierge will drop off the packages into the locker boxes following the drop- off procedure. |
| Step3 | | The system will register the tracking number once the item has been scanned and will mark the parcel accordingly (Fragile, Urgent, Food, etc.). These messages can be customized based on request. |
| Step4 | | The concierge selects the locker size to deliver the parcel to and an email is sent automatically to the recipient, including the details of the package received. |
| Step5 | | The Resident either scans the QR code, or uses the mobile app or pin to access the locker and pick up their parcel. |